Introduction
In this article you will learn interesting and interesting facts about lamb's lettuce. Above all, you will learn how to make it last. Corn salad looks wilted after a short time and you can only dispose of it. Learn about this topic in this article.
What is this salad seen botanically?
The common corn salad, as it is called, bears the Latin name Valerianella locusta. It is called Vogerlsalat in Austria, Nussli lettuce in Switzerland and also field lettuce, mouse ear lettuce, nutlets, Nussler, Schäpäulchen, Sonnewirbele and Rapunzel. Botanically speaking, it belongs to the Valerian family.
It is an annual, herbaceous plant that is five to 15 cm high. The leaves are 5 to 30 mm long. The seeds of lamb's lettuce germinate in autumn. The inhibitors are broken down in summer. Beetles, bees and butterflies pollinate the salad. In the first place, however, it pollinates itself.
In which countries does it occur?
Common lamb's lettuce is found mainly in Europe, Macaronesia, North Africa and West Asia. It is therefore very widespread and popular in the world because it is found on three continents.
This type of salad is also very popular in Germany. You can find it on all weekly markets, in all supermarkets and discounters.
The lamb's lettuce is in season from October to March and out of season you should use other seasonal salads. In the months when it is in season, you will find it abundantly in the offer of all fruit and vegetable dealers.
What nutrients does lamb's lettuce contain?
The lamb's lettuce - like all other leafy lettuces - is considered to be very nutritious and healthy. It promotes digestion and well-being. This salad has only 17 kcal and can be used for weight loss when I change my diet. It contains 1.5 g of fiber, which is good for digestion and at the same time binds toxins in the intestine.
The nutritional information relates to 100 g of lamb's lettuce. It contains 35 mg of vitamin C, as well as important minerals such as zinc and copper. Vitamin C strengthens the immune system and protects against viral diseases such as colds and flu. It also contains 35.00 µg iodide, which is important for healthy thyroid function. Corn salad is very healthy and should not be missing on any menu during the season. Here you can see a detailed ingredient analysis as I took it from my nutritional software, which I use in nutritional advice:
Ingredients Quantity Unit
Kilocalories 17
Kilojoule 71
Protein 2.00 g
Fat 0.01 g
Carbohydrates 1.00 g
Total fiber 1.50 g
Cholesterol 0.00 mg
Uric acid 35.00 mg
polyunsaturated fatty acids 0.20 g
monounsaturated fatty acids 0.00 g
Saturated fatty acids 0.10 g
Cooking salt 0.01 g
Sodium 4.00 mg
Potassium 420.00 mg
Calcium 35.00 mg
Phosphorus 50.00 mg
Magnesium 10.00 mg
Iron 2.00 mg
β-carotene 3900.00 µg
Vitamin E active. 0.60 mg
Vitamin B1 0.07 mg
Vitamin B2 0.08 mg
Niacin equivalent 400.00 µg
Vitamin B6 0,25 mg
Vitamin C 35,00 mg
Folate (total folic acid) 145.00 µg
Zinc 0.50 mg
Copper 100.00 µg
Fluoride 100.00 µg
Iodide 35.00 µg
Water 90.00 g
Phenylalanine 100.00 mg
Total sugar 1.00 g
Kilocalories without volume 14.00
Kilojoules or Bst. 57.00
Recipe suggestions
The preparation of a lamb's lettuce dressing and the other ingredients can be different. Very popular in connection with this salad is a yogurt dressing consisting of 2 teaspoons of high quality vegetable oil (hemp oil, linseed oil, olive oil, rapeseed oil etc.), 1 teaspoon of balsamic vinegar (alternatively 3 teaspoons of organic lemon juice if balsamic vinegar cannot tolerate it) ) 3 tablespoons of yogurt and 3 tablespoons of water. Then cut fresh herbs as desired and add them to the lamb's lettuce. Finally, season the salad with salt, pepper and paprika powder.
It also tastes delicious with onions and with olives pickled in garlic. Black olives in particular have a very positive impact on health. However, only buy black olives from the weekly market at a dealer, since the others were unfortunately blackened out and were originally green olives. So avoid the black olives from supermarkets and discounters.
Alternatively, you can serve the lamb's lettuce with fresh pieces of orange with and without yoghurt. If you don't use yogurt, you can choose a vinegar-oil dressing. You can find more recipes on https://www.chefkoch.de
Can I grow this variety of lettuce myself?
Yes, you can grow corn salad in your garden yourself. Information on how to do this can be found on the Internet. Cultivation in a raised bed is ideal. So that you also save yourself the annoying stooping when gardening (keyword: senior garden). However, he needs special care that must be carried out carefully. The greater the joy when you can finally harvest the salad.
Unfortunately, it is not suitable for an attachment in the apartment or on the windowsill. A small garden plot is necessary. In the meantime there is urban gardening in various cities, in which you can participate and grow your fruit and vegetables, even if you do not have your own garden. However, please make sure that the urban gardening is not located on a busy street because of the many pollutants, because then the fruits and vegetables absorb these many pollutants and you finally eat the pollutants and absorb them in your body.
Corn salad quickly wilts
- How can I make it last?
Yes, this is a nuisance to many people who like to eat it. But what can you do to make it last? In the photo above you can see the solution: a spray bottle with water.
Sprühen Sie täglich den Salat mit Wasser ein. Dabei sollte die Sprühflasche auf "Zerstäuben" eingestellt sein. Ideal ist es, wenn es sich um eine lebensmittelechte Sprühflasche handelt, vielleicht nicht gerade so eine, wie die abgebildete, da dort Schadstoffe enthalten sein können. Vielleicht finden Sie eine Sprühflasche aus Glas. Sie können solche gläsernen Sprühflaschen in der Apotheke kaufen. Die Glasfarbe ist dann zumeist dunkelbraun.
Make sure that this spray bottle really only contains water and no substances such as flower fertilizer. Organize a separate spray bottle for your food.
My lamb's lettuce lasts about three to days. Since I eat it alone and the packs are intended for three to four people, I also had to worry about the shelf life.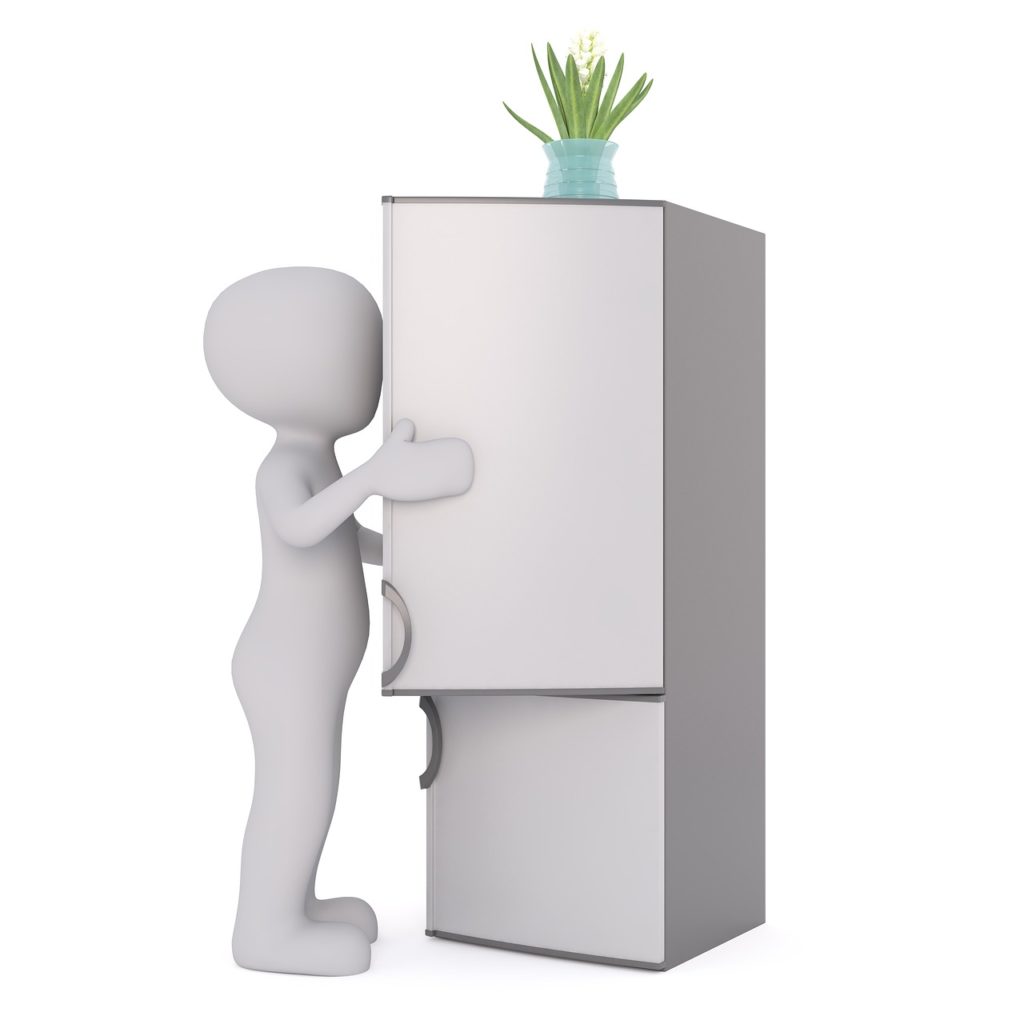 When you have sprayed your lamb's lettuce, put it open in the fridge. The temperature in the refrigerator is usually around 7 ° C. However, this salad loves it even cooler at around 1-2 ° C.
It is also important that you always remove the lid from the plastic packaging after shopping. Otherwise he can quickly rot in the package.
When I eat lamb's lettuce, my teeth grind
- What am I doing wrong?
In this case, you wash the salad incorrectly.
How to prepare unwashed corn salad for washing:
If there is still a lot of soil, you should rinse thoroughly several times in a sieve. You are not done with that, however.
How to clean the salad (washed and unwashed):
Put the lettuce and about 10 cm of lukewarm water in the clean sink or in a very large bowl (about 40-45 cm in diameter). Now carefully move the lettuce in the water with your hands with back and forth movements. After about a minute, change the water and repeat the process.
You will see that the sand collects at the bottom of the sink or large bowl. This is exactly the sand that would otherwise have gritted your teeth. If you want to be on the safe side, or if it's completely unwashed lamb's lettuce, you can repeat this process a third time.
Good Appetite!
My recommendations:
Der beste Slow-Juicer, den ich kenne
Ein Hochleistungsmixer mit voller Power
Ein praktischer Handmixer, mit dem die Küchenarbeit Freude macht
About the author:
My name is Martina Ledermann and I am a nutritionist after receiving state-approved training at the OTL Academy in Berlin. I am interested in healthy, tasty nutrition and like to pass this knowledge on to other people. I also work as a illustrator, translator CZ-DE, EN-DE and author. I've written several books on healthy eating and losing weight that you can get on Amazon.